About Us
Action Packer Outdoors was originally founded as a way for a group of outdoor enthusiasts to provide the world with their outdoor adventures via social media channels. Here at APO, we pride ourselves on living an outdoor focused lifestyle in a portion of North Carolina that is currently experiencing an explosion of development.
APO has just started our expedition toward achieving the vision that our Founder (Drew Blake) had when he established APO in January 2019. APO understands that the outdoor industry is saturated with brand dedicated consumers that depend on quality products to support their active and demanding lifestyles. As such, APO is dedicated to providing our customers with brands that deliver innovative and high-quality products. Our dedicated and passionate ProStaff put our products to the test day-in and day-out.
Contribute to the conservation of the environment and its resources.
Mentor new hunters and youth to carry on our heritage.
Practice ethical and sustainable hunting and fishing.
Live an outdoor and self-sustainable minded lifestyle
Product Support Specialist/Blog Writer
Evan Trebilcock is a product support specialist and blog writer for Action Packer Outdoors. In these roles, Evan seeks to expand consumer knowledge about the products that APO offers.
Evan Trebilcock was born and raised in the outdoors of Upstate NY chasing whitetails, turkey, small game, and freshwater fish. Since moving to North Carolina, he has transitioned into hunting waterfowl with his yellow Labrador retriever Lady, fly fishing for trout in the Blue Ridge Mountains, and pursuing fish off the coast of the Outer Banks. He has also expanded his hunting grounds to the western U.S. in pursuit of game with his bow and rifle. If you ask Evan his favorite part about hunting and fishing, it would be the connection to the land and animals, followed closely by cooking the game he is lucky enough to bring home. Evan's greatest passion is introducing the world of outdoors to beginners through one on one mentoring.
Evan's Outdoors Experience
ProStaff - Action Packer Outdoors
---
Jeff Buchanan is the Chief Product Officer at Action Packer Outdoors. In this role, Jeff assists Drew with managing the strategic product direction. Jeff, is responsible for product vision, management, and marketing. He specifically targets product suppliers so that Action Packer Outdoors can continue providing our customers with quality outdoor products.
Jeff was born in Hagerstown, Maryland, and now lives just outside Smithfield, NC. He was introduced to deer hunting at a young age by his uncle and two cousins, but never had the chance to go often. At age 17 he was allowed to spend more time in the outdoors and so began an infatuation that hasn't stopped for roughly ten years now. His outdoor knowledge had been self-taught while seeking knowledge and advice from others. His biggest passion would by far have to be waterfowl, which he spends most of the season chasing from the Piedmont region to the coastal region of North Carolina. In his free time, Jeff is an assistant coach for his daughter's softball team.
Jeff's Outdoors Experience
ProStaff - Action Packer Outdoors
Owner - Fowl Water Outdoors
Field Staff - Cervicide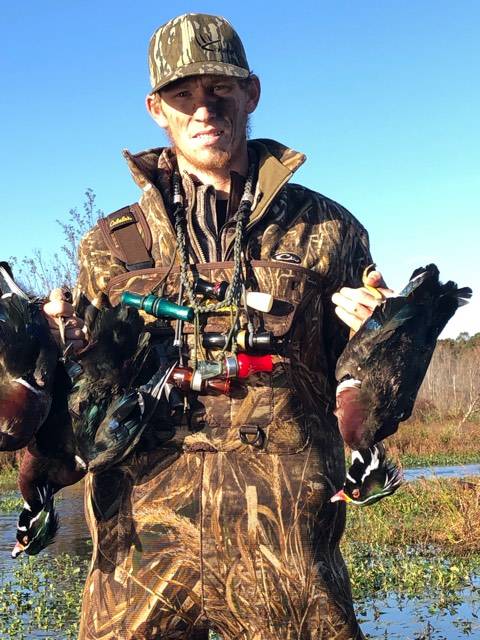 ---
Michael is a combat veteran of Iraq and Afghanistan and currently resides in Lawndale NC. Michael has been married to his wife Courtney since 2014 and their first child arrive two short years later. Their son Colton enjoys any outdoor outing with his dad and takes a blue bill decoy with him everywhere he goes. Michael is from the historic town of Mount Airy, NC, and was raised hunting and fishing alongside his father and uncles. Michael's father started him out in a corn field at the age of four dove hunting. This began Michael's lifelong enjoyment and passion for the outdoors.
Michael pursues whitetail deer, waterfowl, dove and Eastern wild turkey. His pursuit of these species regularly takes him from his home is western North Carolina to the east coast of North Carolina. His main focus is targeting waterfowl during their winter migration. Michael has successfully hunted waterfowl in both the Carolina's and Arkansas while pursuing whitetail deer and Eastern wild turkey throughout the Carolina's.
Michael is a firm believer in giving back to nature and does his part by being a Life Sponsor of Ducks Unlimited, alongside his wife. He took this dedication one step further by serving four years as an Area Chairman for North Carolina Duck Unlimited before becoming a District Chairman in Western NC.
Michael's Outdoors Experience
ProStaff - Action Packer Outdoors
Ducks Unlimited District Chairman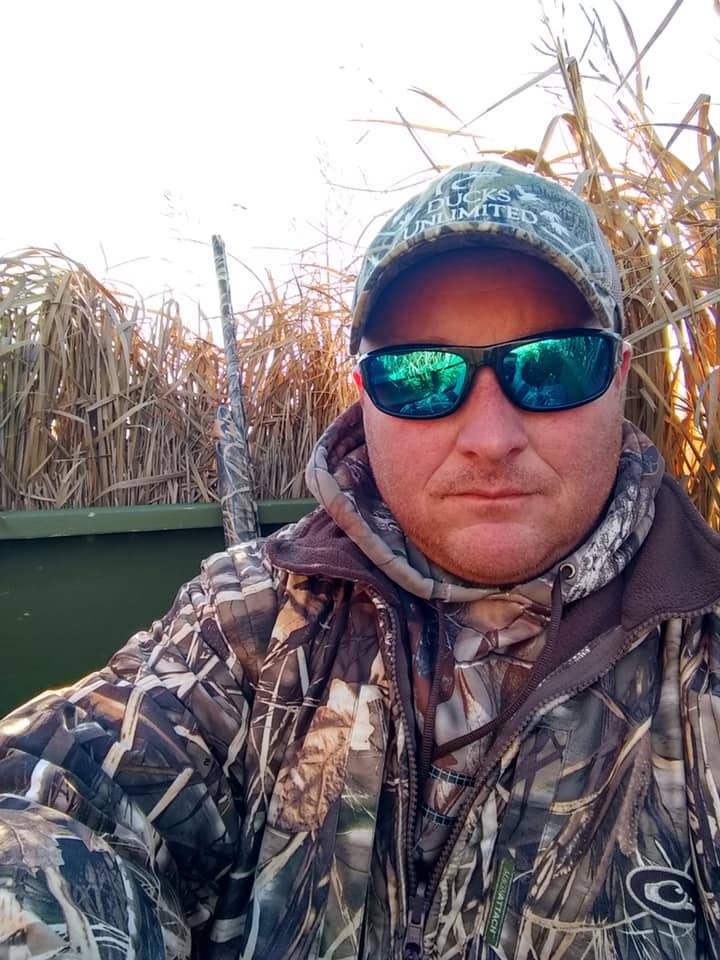 ---
Drew Blake is a graduate of North Carolina State University, where he achieved a Bachelor of Sciences degree in Environmental Technology & Management with a minor in Environmental Science. Drew currently oversees all aspects of Action Packer Outdoors and hopes to begin spreading the APO brand by attending outdoor expos and shows throughout the North Carolina.
Drew grew up hunting deer, turkey, and small game on family land with his father. While spending this time with his father, Drew was taught his knowledge and passion for the outdoors and conservation. From that time Drew knew inside that he would one day contribute to the environment and the hunting and fishing industry. Since then Drew and his father spend every opening morning of turkey season, together, waiting for that first gobble. Now Drew primarily focuses on duck hunting which he primarily hunts with his father and a few close friends on public lands in the Piedmont of North Carolina. Outside of hunting he enjoys freshwater and saltwater fishing, continuing the training of his dependable hunting buddy, his Boykin spaniel (Jack). Outside of spending time hunting and fishing Drew enjoys gardening and spending time with his wife, Sarah, and son, Colt.
Drew's Outdoor Experience
Field Staff - SouthBound Calls
ProStaff - North American Waterfowl Company
Field Staff - Treezyn
Pro & Outfitter Program - Sitka